I have been excited about this post for a very long time! Today I am joining Lena B, Actually for her weekly Tuesday 10's post!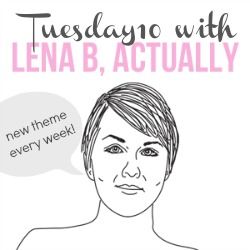 This week's theme is favorite Christmas songs! Christmas is my favorite FAVORITE holiday, and I love LOVE Christmas music!
My top 10 songs are as follows:
10. What Christmas Means to Me - Hanson. Such a fun loving cheery cozy song!
9. Merry Christmas Baby - particularly the one by Hanson: I just love the whole Snowed In album!
8. I Saw Mommy Kissing Santa Claus: Brings back so many memories
7. Santa Baby: love it.
6. Rudolph the Red Nosed Reindeer - I can't wait to sing this with my girl & hear her sing "like a lightbulb!" and all the other funny quirks!
5. All I Want for Christmas is You - Mariah Carey. Who DOESN'T love this song?
4. Oh Holy Night: L.O.V.E.
3. Silent Night: My absolute favorite classic carol. Reminds me of Christmas eve candlelight ceremonies.
2. 12 Pains of Christmas - Twisted Christmas Carols: Ha! Cracks me up every time! "Fine! You're so smart YOU rig up the lights!"
1. At Christmas - Hanson: This is by far my favorite of all time. It isn't well known but just listen, I bet it will bring a tear to your eye. "No matter who you are, or how far you've come. This is where you belong, at Christmas" PERFECTION.
There you have it! Come link up and tell us YOUR FAVORITES!