I know, I know, it's pretty much three days late. That's just how I roll.
My husband rocks this week because he got tickets for THIS: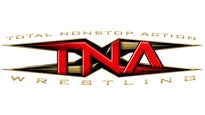 We had so much fun! The wrestlers were all really really awesome, and without further ado, I will share some pictures with you now!
Madison Rayne and Mike - Abyss and Mike
Kazarian and Me - The Pope D'Angelo Deniro and Mike
Me and Mike with Velvet Sky
Me and Mike with Don West
Mike and Me with Jeremy Borash
Me and Mike with Chris Sabin
Me with Jessie Neal of Ink Inc.
The Founder of TNA - Mr. Double J, Jeff Jarrett! (so awesome)
The other love of my life, AJ Styles =)
Mike's Infatuation, Velvet Sky
The totally modest and fantastically awesome, Jeff Hardy (who threw his armband to me woo!)
Don't ya just love my hubby's photography skills on that last one!?
I have to say just one thing: TNA Wrestling practices what they preach. They are definately the most fan-friendly company today. They treat every fan like gold, and they respect the fact that without us, there would be no TNA Wrestling. They take the time out to say thanks, and really give their fans the one-on-one experience and it's just - plain - awesome. My hubby and I can't wait to go again!!
So, that is why my hubby rocks =)