Before we begin I just want to say HAPPY BIRTHDAY to my baby girl, who is two today! Look for a special post about her this evening, but first I bring you....
NAIL POLISH!
Enjoy =)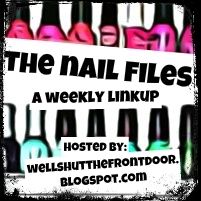 So, I actually did my nails this past Friday because I had been wearing my favorite color, Plum Luck by Sally Hansen, but it chipped pretty badly before I got any good pictures of it. This is what I have been wearing since then:
It was actually inspired by a friend of mine who got her nails done at a salon in an OPI shade that is very close to this. Only difference that I can see is that hers had a good bit of glitter where as Raisin the Bar has more of a metallic feel to the polish. It almost looks like the Essie bronze/penny color.
Here it is:
Linking up with
Heather
and
Anna
for Mani Monday, and
Jennie
for The Nail Files! Thanks girls for inspiring me!
NEXT WEEK: I will be doing my first at-home DIY French manicure, and I will be using an office supply to achieve it! I can't wait to see how this turns out, because if I goes well, the color combinations are ENDLESS! I hope you stop by and check it out!
See you later lovebugs!
Rachael